What is the purpose of additional tabs on my Facebook page?
If you have more details to share with your Facebook guests you may want to display that detail in separate tabs. Think of tabs like new pages on a website. For example you could create a new tab about your dream wedding options, your packages, activities in your area, etc. Go to ReservationKey Facebook apps.
How do I add this app to my Facebook page?
You can add tabs by clicking here (scroll down to the tab links). If you don't yet have a Facebook page, click here to create a page. Select your business page as the page to add the app to.

Now the app will appear as a tab on the left side of your Facebook page. Just click on the tab to open it. When logged into ReservationKey in the same browser you will see the admin options for the app at the top of the page.
Do I need to know HTML in order to create this page? Can I add images?
No, you can use our HTML editor to stylize your text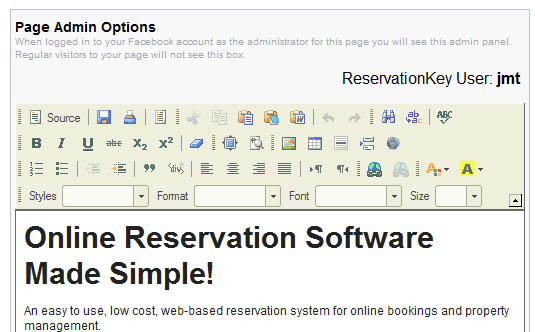 You can add images by linking to them using the image icon in the editor.
How do I change the default name of this tab?
When viewing your page wall, click the Edit Page button in the upper right corner.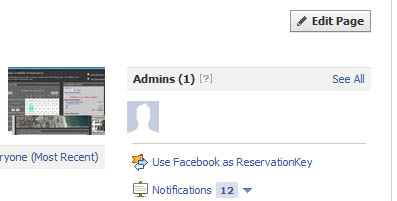 Then click Apps on the left side.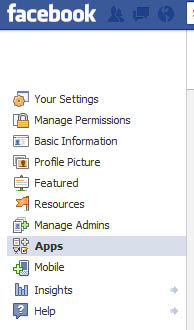 Then find the tab you want to edit the name of and click Edit Settings and enter a new name, or leave blank to use the default name.